SCRIMMAGE


Versions 3.0 and 3.0.8




A Game Based on the Action, Breaks, and Strategy of American Football, Incorporating the Concepts of Speed, Power, Deception, and Formation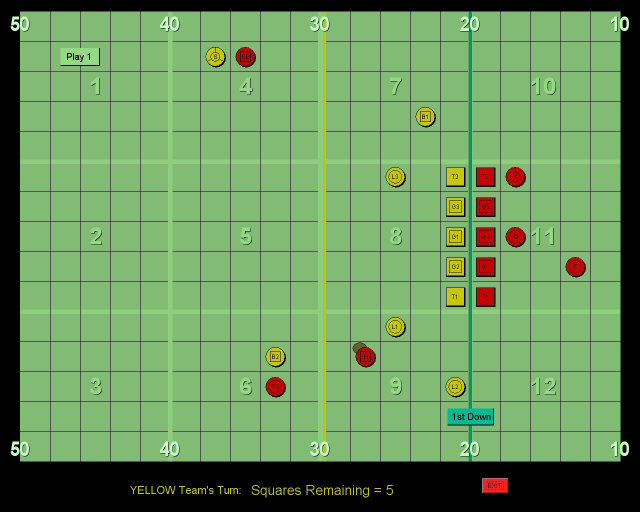 SCRIMMAGE is a computer game for two players based on the original 1970 board game of the same name. There are two versions of the game: Version 3.0 for use with Windows XP and Windows 7 operating systems, and Version 3.0.8 for use with Windows 8.1 and Windows 10 operating sytems. The program is compatible with both keyboard/mouse and touch-screen interfaces. When played on a tablet computer, the landscape orientation is recommended.



More information about SCRIMMAGE can be obtained by downloading and reading the Rule Book.

---
Free copies of the latest SCRIMMAGE versions can be downloaded from:
SCRIMMAGE Version 3.0 for Windows XP and Windows 7
SCRIMMAGE Version 3.0.8 for Windows 8.1 and Windows 10

When the download is complete, the ZIP file can be unzipped to reveal the SCRIMMAGE Folder. The "Read Me" PDF file in the folder explains how to execute the program.

---
SCRIMMAGE is being offered free of charge for the entertainment of those who never had the experience of playing the original board game. Anyone who is inclined to express their appreciation is encouraged to donate to a worthy charity. Of special worthiness to the developer of these software applications are children's hospitals. Four notable such hospitals are:

Children's of Alabama hospital in Birmingham, Alabama,
St. Jude Children's Hospital in Memphis, Tennessee, and
Cincinnati Children's Hospital in Cincinnati, Ohio.
Boston Children's Hospital in Boston, Massachusetts


Please address questions or comments to David Williams at dfwlms@gmail.com.

---